PPC and SEO: Your online marketing 'bread and butter'
How do you best ensure consumers find your business within the foreign territory that is the search engine results pages (SERPs) of Google and Bing? The answer – a flawless PPC and SEO strategy.
In today's modern world, almost every business is concerned with one thing - growing their online presence. Every business has a target audience, and 9 times out of 10, a large proportion of that audience will be searching online for a product or service to satisfy their specific want or need. But how do you best ensure that these consumers find your business within the foreign territory that is the search engine results pages (SERPs) of Google and Bing? The answer – a flawless PPC and SEO strategy, designed to work in tandem and dominate the SERPs for the years to come. This article will focus on the fruitful relationship between PPC and SEO and how adopting a combined strategy will help you get the most out of these mammoth marketing channels.
Batting for the same team
For as long as we can remember SEO and PPC have been considered parallel in conversation, however, not so much in practice. Many will argue that they are alternatives of each other and that you can only have one or the other. For some, they may as well be the same thing.
What better way to show the benefits of using each channel together than to separate them?
By looking at each channel in silo, we can highlight the unique benefits of each channel and look at how we can combine these benefits to reap maximum reward. At the end of the day, it's these unique qualities that allow them to work so well together.
SEO – commonly referred to as 'organic search', is the method of optimising on-page and off-page elements of your website as a means of gaining more traffic and improving/maintaining a strong position within the SERPs.
PPC – i.e. 'paid search', has the exact same overall goal of driving more traffic to your website, but looks to do so by serving paid ads to customers within a target market across a variety of online sources e.g. SERPs, other websites and social networks. Advertisers bid on keywords within an online 'auction', with the highest bids earning a prime position within the SERPs. For every ad that achieves a successful interaction (e.g. click, view etc) the marketer is charged, hence the name 'pay-per-click'.
Both channels are extremely powerful and beneficial in their own right. PPC, if done properly, offers almost instantaneous results from very little time or monetary commitment, whilst the rich benefits of a well implemented and nurtured SEO strategy often take much longer to show but can result huge and, more importantly, long term results.
Shared knowledge is key
Modern digital marketing is becoming increasingly all about data, insight and analysis. Essentially, the more knowledge you have at your disposal, the more you can then accomplish. Often, a single piece of data can be of equal importance to multiple teams within a business. It is also very common to find that the data gathered from one campaign will provide insight and suggestions for future campaigns and on-going marketing activity. This practice can most definitely be applied to PPC and SEO. So, the next time you're looking for that key piece of data that you need to propel your SEO strategy, look to your PPC data, we guarantee that you will be on to a winner.
Show your presence in the SERPs
Have you ever tried searching for the term '4K TV' on Google? If not, give it a try; what do you see? Ads…ads everywhere! In fact, around two-thirds of the 'above the fold' search results are paid listings - there's a full section dedicated to Google Shopping Ads followed by two PPC Search Ads before you even see an organic result.
We have enough knowledge of the industry to know that not all users are going to click on one of the above-mentioned ads, however, you cannot argue that the additional level of exposure that these ads offer is without a doubt beneficial to any business. Even if your ad isn't clicked on, its sheer presence on the page will help to increase brand awareness and reinforce your reputation as a reliable and reputable business. Essentially, by adopting a combined PPC and SEO strategy, you are targeting the pretty substantial group of consumers who habitually acknowledge and read paid ads but prefer to click on organic results instead. Therefore, if you're at the top of the listings organically and also have a Paid Search presence for the keyword in question, your chances of achieving the desired click-through are significantly higher.
For example, in the image below, Currys possess both a paid and organic listing at the top of the page, giving the user the impression that this site has a significant level of authority and can be a trusted source. It's important to remember that page one of the SERPs is prime real estate – use both PPC and SEO to ensure that your brand or website takes up as much space here as possible and you'll be guaranteed to see an increase in performance.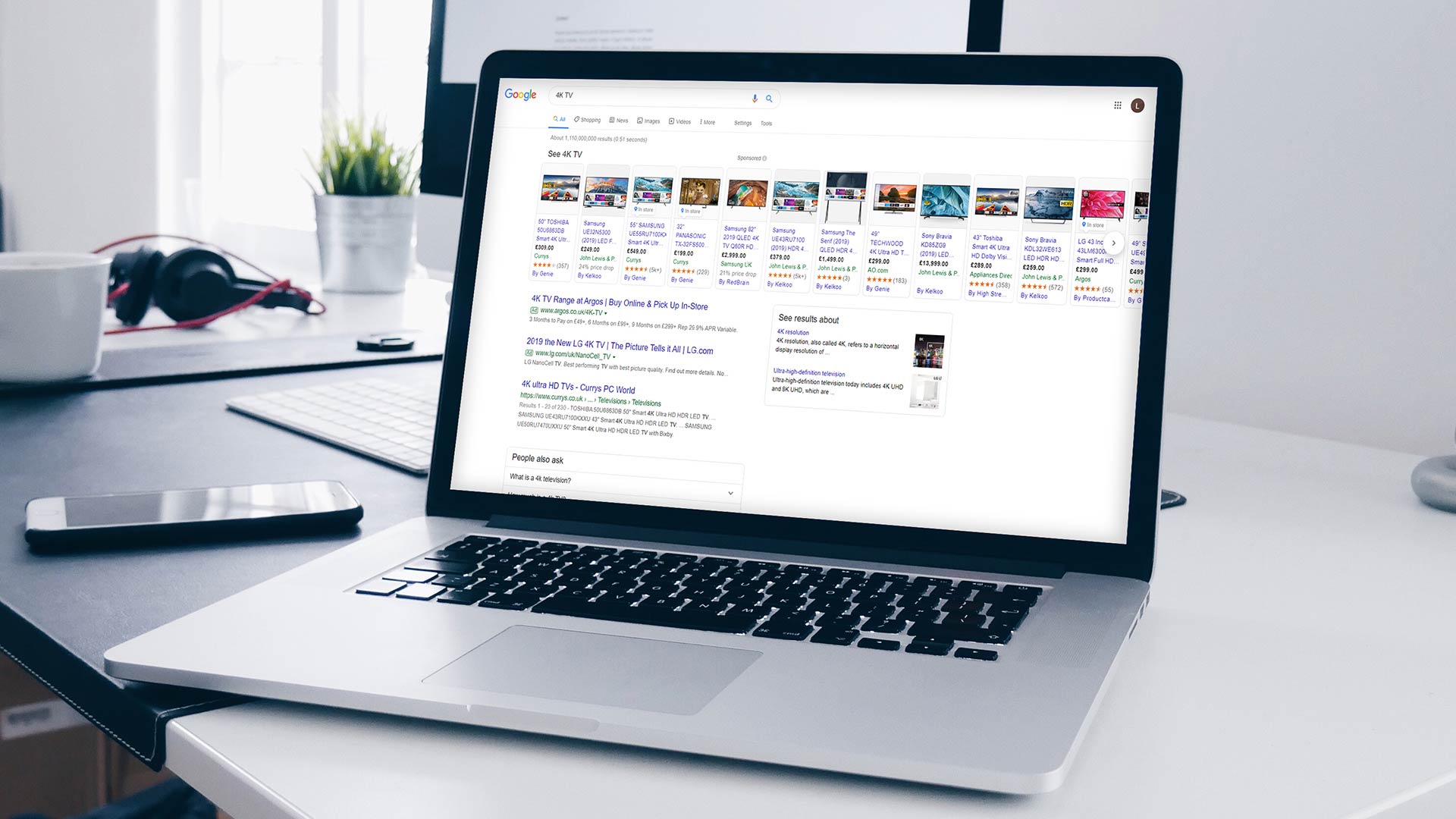 Tried and tested
You may be thinking - What does testing have to do with SEO, is that not only relevant to PPC?
Yes, testing is a major part of paid search, with account managers constantly trialling new approaches, keywords, ad copy, landing pages and much more to find what works best.
The short-term A/B testing of ad copy is more often than not the best way to determine what will be worth spending money on in the long term, however, this data can also help marketers make more informed decisions with regards to SEO.
For example, if you were to conduct an A/B test on ad copy for the term 'Contract Lawyers Glasgow'. One of the headlines is 'Award-winning contract lawyers based in Glasgow' and the other is 'Contract lawyers in Glasgow – make a free enquiry today'. Once you have built up enough data to make an informed decision with regards to which ad copy generates the better click-through rate (CTR) you will then have a better idea of which title tags are most likely going to draw more organic traffic – either copy one, with its stand-out trust signal, or copy two, which possesses a strong call to action.
If you were to try and carry out a test like this using SEO alone, it would take you considerably longer to generate the quantity of data necessary to make a well-informed decision.
Reaching the unreachable
It's a feeling known too well by all marketers – budget restrictions.
Whilst PPC can be an extremely cost-effective means of obtaining results, there will be occasions where the keywords and search terms that prove to be the most fruitful are not quite financially feasible in the long-term.
If you rely solely on PPC as a means of online exposure for these 'big-money' keywords, then come the middle of each month, you're going to find yourself extremely frustrated and with very little budget left to squeeze out for the remainder of the month. However, if you have a strong organic campaign in-place that is running alongside your PPC activity – as it should be – then your frustration will soon fade, and your profits will grow.
Of course, PPC offers instantaneous results and 'quick wins', but you'll find that being at the top of the listings organically will garner more trust from consumers.
Algorithm troubles… we've all been there
Some of us will know the feeling all too well; your months of hard work and effort to establish a dominant organic position within the SERPs has finally paid off and your profits are starting to rise and then BOOM!...Google update their algorithm. Visibility has plummeted, and organic traffic is lower than ever. You need a fix and you need it fast! Enter PPC.
Providing that you carefully target the right people with correct messaging, PPC can step in to bridge the gap in the short-term. It can ensure your brand still shows up for key and relevant searches whilst you make the necessary changes to your SEO strategy.
That being said, PPC's agile nature isn't only useful when things aren't going well, it can also be used to help you stay reactive throughout the good times. For example, perhaps you're running a spur-of-the-moment promotion off the back of an exciting new online trend. This is when PPC can complement your existing SEO efforts perfectly.
Dog are here to help
By now we have hopefully convinced you that PPC and SEO are, as our title suggests, the ultimate power couple. Getting the most out of both channels takes a fair bit of careful planning and expertise, but don't worry, you don't have to struggle on your own – we are here to help.
If you'd like to know more about how our team of experts can help you achieve your marketing objectives, get in touch on 0141 572 0730 or hello@dogdigital.com
Read more of
our insights