Creating an Epic Campaign
Dog x RHS x Kerry Hyndman
As senior designer and senior creative copywriter at Dog, we've overseen the creation of several advertising campaigns for various clients across multiple sectors. Each project is unique, and the process of creating these campaigns requires planning, collaboration, and creativity.
In late 2022, we were tasked with creating the 2023 campaign for our longstanding client the Royal Highland Show, off the back of the success of the '200th Anniversary' Show from the previous year. In this article, we'd like to share with you the process we took in creating this campaign and the joy it brought us working with a freelance illustrator to activate our vision.
Step 1: Define the Brief & Campaign Goals.
The first step in the process was to define the brief, which is the foundation of the whole campaign. We outlined the desired outcomes and any specific requirements or constraints before confirming this with the client that allowed us to progress to the defining stage.
Step 2: Developing the concepts.
Once we had a clear understanding of the campaign needs, that's when we began to think about a range of concepts that we could present to the client. After creating a range of options, we went back with three solid routes that each had their own core message, concept and visual style that tied back into the brief.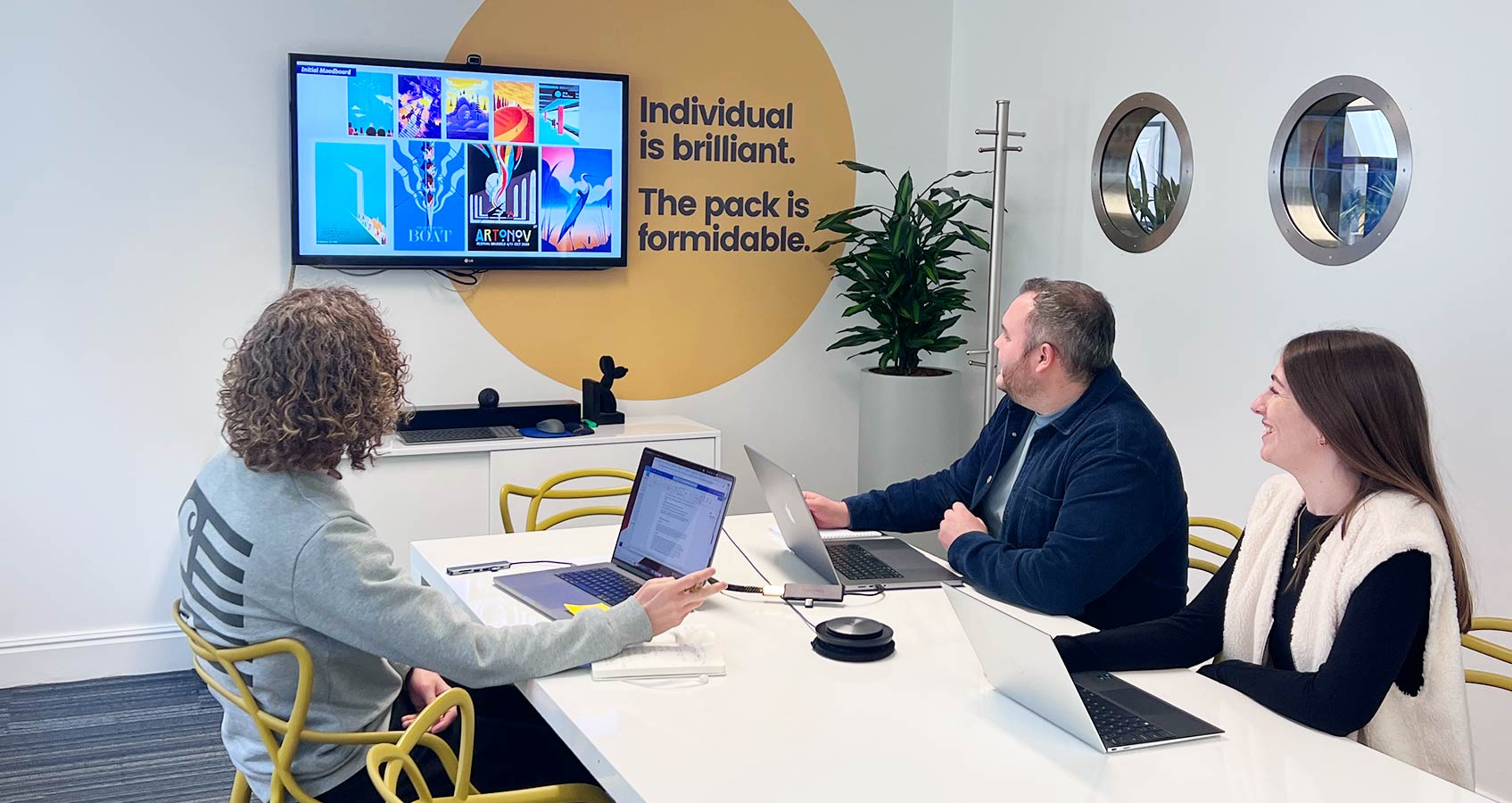 Step 3: The favourite.
Each concept presented had very distinct styles and messaging. And all that was left was for the client to choose one route. After this was completed, we knew there was still a lot of work to do to bring this initial concept alive, and part of this, was to choose an illustrator to provide the bespoke visual style we envisaged.
Step 4: Illustrator Selection and Briefing.
We created a shortlist of potential Illustrators that worked in a style we thought would create the right look and feel for the ad campaign. These were then reviewed with the client, and we contacted the preferred options to check availability and provide them with our campaign vision. We were overjoyed to find out our first pick, Kerry Hyndman (see Kerry's portfolio here) was available and excited at the prospect of being involved.
With Kerry on board, we were able to progress into concept development defining many key details such as:
The headline creative concepts
The number of outputs
The theme of each subsequent creative
Headline, key messaging and CTA copy for each creative.
2023 lock-up and new typography
Key ad placement layouts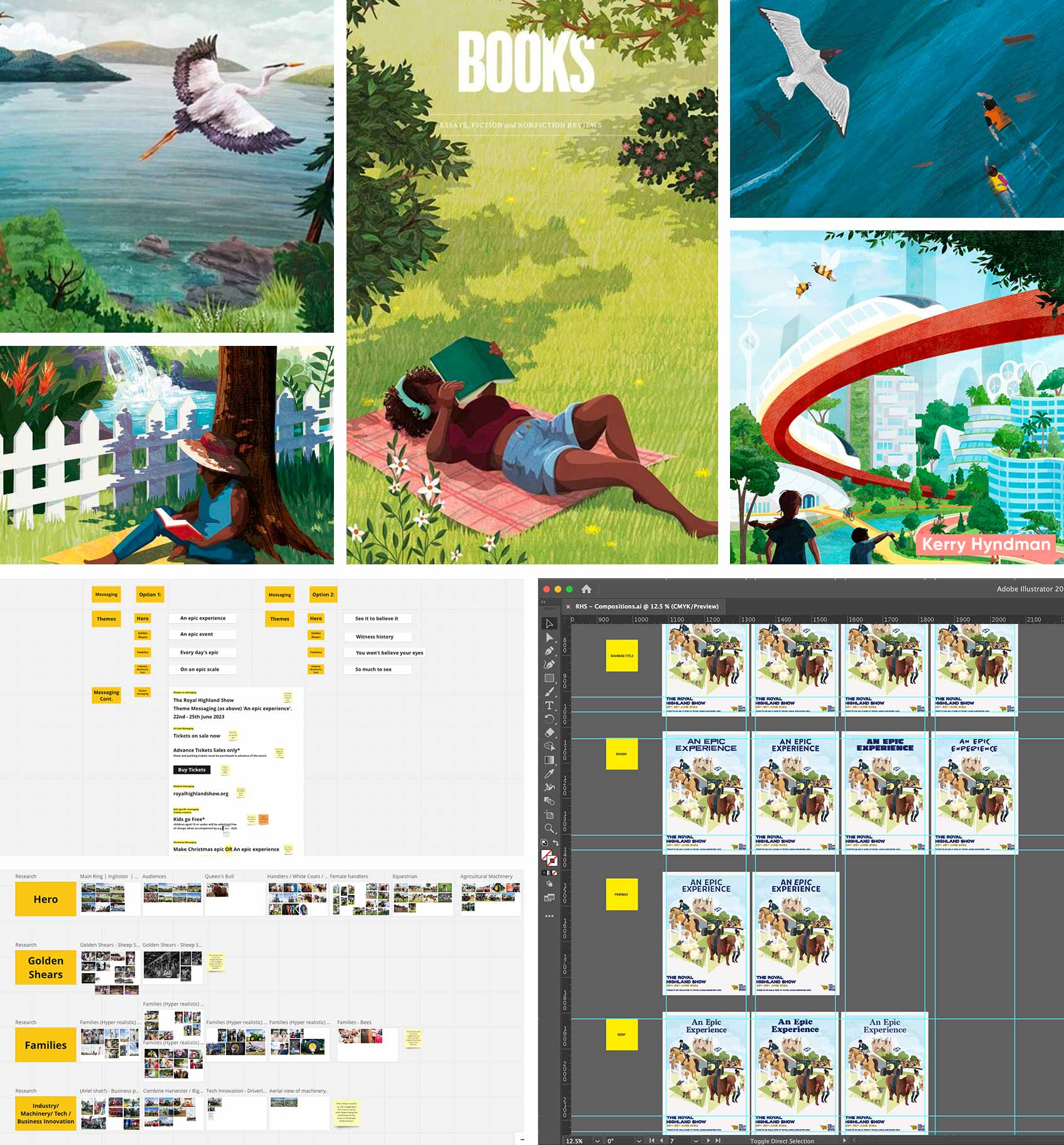 Step 5: Iterations and Creative Development.
The Royal Highland Show have a dedicated marketing team, and we work in partnership with them to develop the concepts. Internally, they also have a Board of Directors that oversee and feed into the creative too, so we allow for this in our overall process and ensure that everyone's feedback is taken onboard.
Step 5: Production of the Assets.
Once we have approval, it's time to start putting the key visuals to work and producing them into all the required outputs. This involves coordinating with our in-house media team to ensure all assets are being created to spec for the desired channels. RHS has a great media mix covering Press, OOH and animated digital, all-important placements that our team has defined to generate optimum performance.
In conclusion.
This creative for The Royal Highland Show 2023 is a demonstration of how we can create a national campaign for a globally renowned event that inspires and excites audiences. And not only that, it's another example of how we can come-up with original concepts – on time and on-budget – it shows how working in partnership brings out the best in us and our clients.
Read more of our insights