The team at Dog have worked with the Royal Highland Show for many years on both creative, design and paid media.
Off the back of their hugely successful 200th anniversary show in 2022, we knew this creative campaign needed to keep this momentum going by capturing interest of key audiences and stakeholders, promote the Golden Shears Sheep Shearing World Championships (that were back at the show for the first time in over 20 years) and drive online ticket sales in a cost-efficient way.
This brief was made even more challenging by the cost-of-living crisis, lack of consumer spending and ongoing changes to people's purchasing behaviour for ticketed events following the COVID-19 pandemic.
We knew we needed a creative approach that captured all there is to see and do at the show in 2023 and really leverage the experience that could be had. This led to the tagline 'an epic experience' which showcased the show's scale.
Our paid media strategy was clear. We needed a mix of channels that would capture attention and raise awareness of the show in key geographies, increase traffic to the website and ultimately drive ticket purchases. By using a variety of formats that would help the creative truly shine, our campaign gave us the cut-through required to drive ticket sales in a cost-effective way.
We first identified the key audience groups we needed to communicate with this year and put them at the centre of our media strategy. We knew we needed to reach families, those interested in culture and events, those within the agriculture industry and those who are familiar with the show and likely to attend again.
To do this in a cost-effective way, our media plan was made up of a combination of online and offline channels to maximise effectiveness and raise awareness across different environments. We know from previous campaign learnings and working with many different clients that campaigns need to be seen and heard across multiple touchpoints to best capture customer attention and improve cost-efficiencies on performance channels such as paid social and search.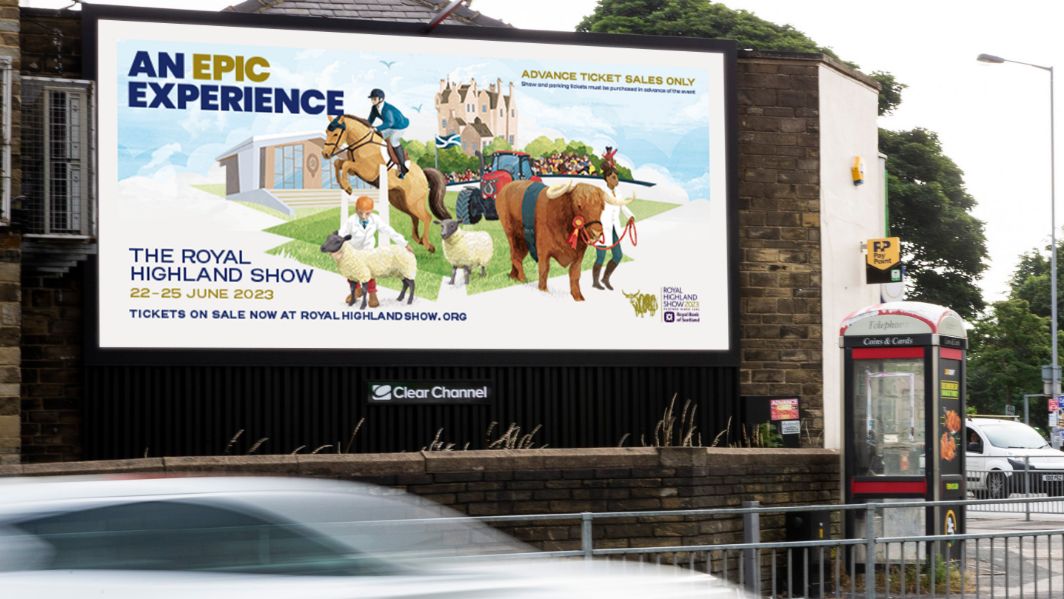 With this in mind, we hand-picked outdoor sites that would capture attention of those living locally to the show. This included ticket gates at Edinburgh Waverly, high impact sites in North Bridge, a full wrap of the Edinburgh tram and double decker bus supersides. We expanded our outdoor reach to other key geographies through posters and other bus formats and supported this with national radio advertising across Bauer's network.
These channels gave our campaign a real-world presence and drove immediate interest in this year's Royal Highland Show. Alongside these traditional broadcast platforms, we ran highly targeted paid social and search activity capturing relevant audiences at key purchasing moments. With creative and copy tailored specifically for each target group, we were able to communicate what they would find 'epic' about this year's show.
Outside of this, we also used specialised industry publications and outdoor placements to reach key stakeholders working in agriculture that will be looking to attend the show this year. This involved working with high reaching national titles such as Scottish Farmer on print and digital packages to more niche (but equally as important) titles such as BAGMA and Farmer's Guardian. We also resumed our partnership with livestock auction houses to reach this highly engaged audience. Communications here typically focused on the return of the Golden Shears World Sheep Shearing Championships.
Alongside the main campaign, we have also worked closely with the team at Royal Highland Show to promote the 'Flock to the show' travelling art exhibition, the RHS Hoolie and the return of RHS TV. All these separate campaigns were delivered through paid social campaigns across the UK and key international markets to continue raising awareness of the brand.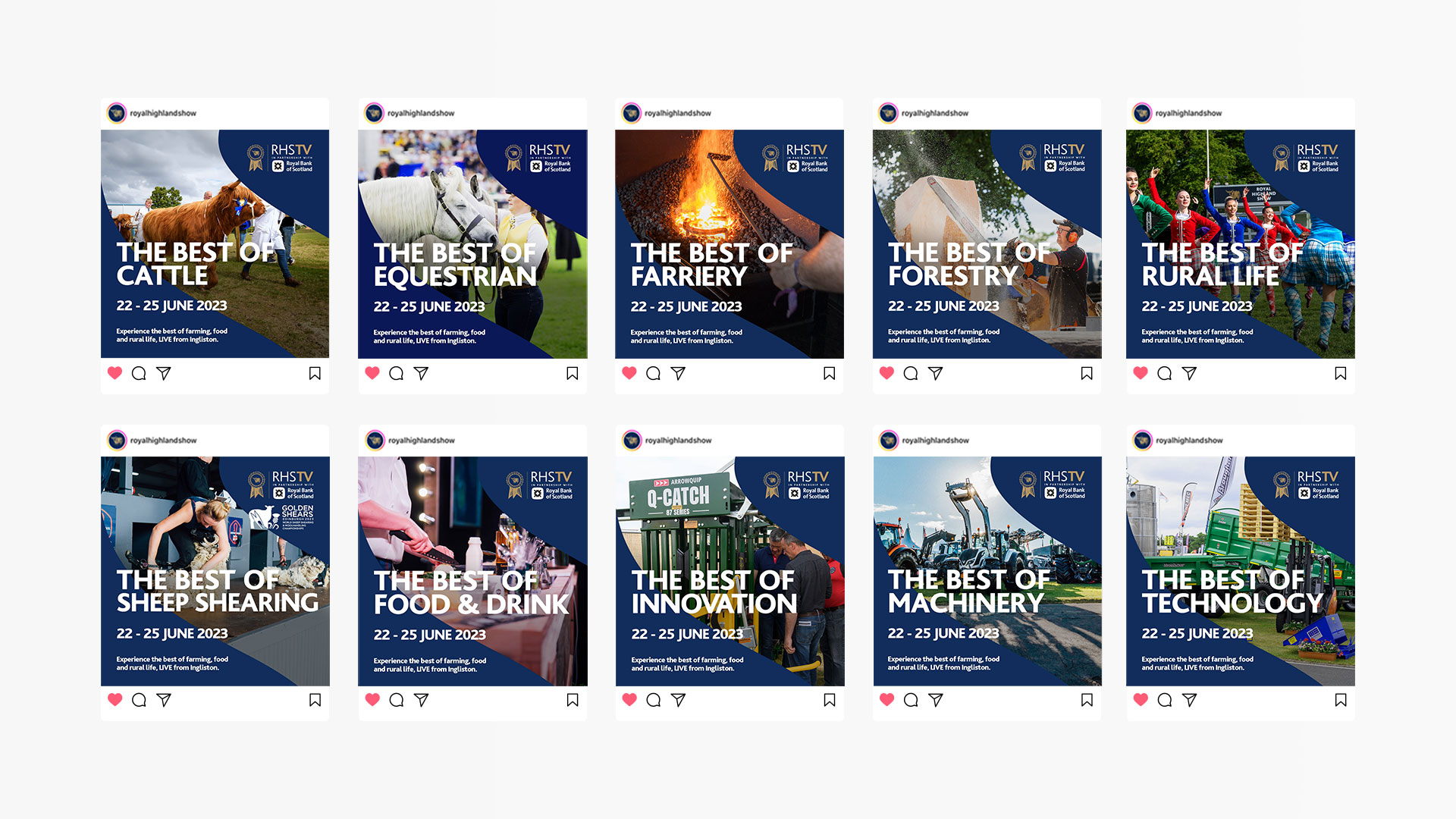 Our media campaign for the 2023 Royal Highland Show demonstrated the scale and variety of the show and was effective in reaching a large audience across multiple touchpoints, with paid media not only driving awareness but also delivering ticket sales in a cost-effective way.
Over 6500 ticket sales attributed back to our digital ads

A cost per sale of £2.04 from our social campaigns

Over 5,000,000 digital campaign impressions 

Over 50,000 clicks to the site from our digital campaign
In addition to the digital campaign we also had a presence across traditional media in the form of radio and outdoor, delivering excellent awareness and broadening our reach beyond highly targeted digital advertising.