In 2018, we started working in partnership with The Macallan to bring their 'quiet luxury' ethos to life across their global social media channels. The Macallan wanted to tap into aspirational recruitment audiences in key cities around the world, and social media was an essential way to reach and connect with these younger target audiences.
By 2023, we had grown The Macallan's social media audience from 272,000 to over one million, with 70%+ of their Instagram followers being made up of that core recruitment audience.
We also transformed The Macallan's Instagram channel into one of the most highly engaged social channels – especially when measured against some of the world's biggest luxury brands. The Macallan previously ranked 9th in average engagement per 1,000 followers, by 2023 this had risen to 5th place, putting them above renowned luxury brands like Hennessy, Cartier, Chanel, and Burberry.
Throughout our partnership with The Macallan, our social strategy has constantly had to adapt to changing technologies and consumer behaviours, and our success has come from never losing sight of the crucial role social plays in protecting and strengthening the brand. By holding true to four core pillars, we have been able to build The Macallan's presence across social media and support significant commercial brand growth in this time.
1. A considered use of platforms and channels.
One size really does not fit all, especially when it comes to activating content across social. We moved the brand to a tailored campaign planning methodology, considering each activation in an audience centric way ensuring our approach to channel choice, creative storytelling, and targeting were customised to ensure results were tied to core objectives.

By creating and curating a quiet luxury lifestyle experience across social we allowed audiences to feel consistently connected to The Macallan brand universe, core values and themes.

Find out more about how we developed The Macallan's luxury credentials.
2. A deep understanding of The Macallan's core audiences
Retaining and engaging audiences through targeted campaign activation ensured engagement was a focus metric for all activity.

We were continually reviewing audience demographics to ensure we were tailoring campaigns with relevant insight. Using research tools such as GWI to provide data on social channel usage, and content consumption allowed us to constantly evolve this approach.
3. Social media channel consolidation
Until 2021, The Macallan's social media presence was split across dozens of local social media accounts, each with very different social strategies. We worked with The Macallan to consolidate their localised channels into a single Global channel, allowing The Macallan to speak with one voice and act as a global luxury brand.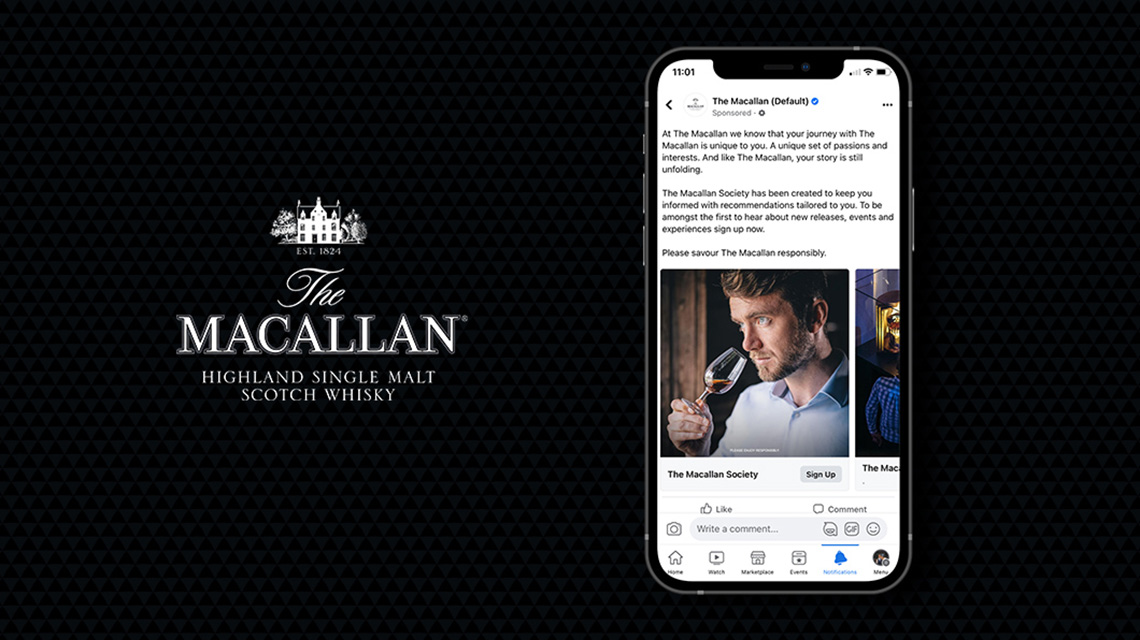 4. Pivoting to trends
The social landscape has seen huge change throughout our partnership with The Macallan, with the rise of TikTok and changing audience behaviours leading to big changes in the algorithm and features on Instagram, The Macallan's hero social media channel. We've therefore had to consistently challenge and refine our approach – and remaining focused on our core KPIs of follower growth and engagements has allowed us to pivot to trends, new features and changing audience behaviour.

We've used this data-first approach to support The Macallan's internal creative team, who developed the social media assets used in our social media campaigns – and we leveraged our expertise to ensure this creative was informed and adapted in-line with the latest trends and features.
70.3% increase in key demographic of core recruitment audience.

Increase on impressions of +1,862% between 2017 and 2023.

Increase in follower growth from 272K to 1 million+ between 2017 and 2023.