Independent Property Consultancy firm Galbraith needed a new and powerful website to drive their marketing and sales activity.
Central to their new website was the need to demonstrate the scale of their offering and breadth of experience – from residential and commercial property to farms and estates, forestry, and renewable energy.
The existing website had fallen behind the market in both design and customer experience. It needed modernisation and decluttering to enhance user experience, with better use of Galbraith's great videos and imagery to serve their fabulous properties.
And whilst the purpose of the new site was primarily to aid sales growth and enhance the brand of Galbraith, a streamlined CMS and simple, intuitive tools would also help content managers organise and re-use content, driving major operational efficiency and marketing effectiveness.
Our Approach: Discovery, Approach, Design and Development
We know from experience how important it is to consider overarching business goals and understand a business from many different perspectives in website development projects. Our Discovery phase was designed to involve and drive input from a wide range of stakeholders at Galbraith to understand how the business operates across its various sectors.
To bring those stakeholders together we ran a series of workshops to demonstrate how customers have been interacting with the website, bringing in insights from heatmaps, session replay, site surveys and analytics alongside reviewing competitors and their approach to similar problems.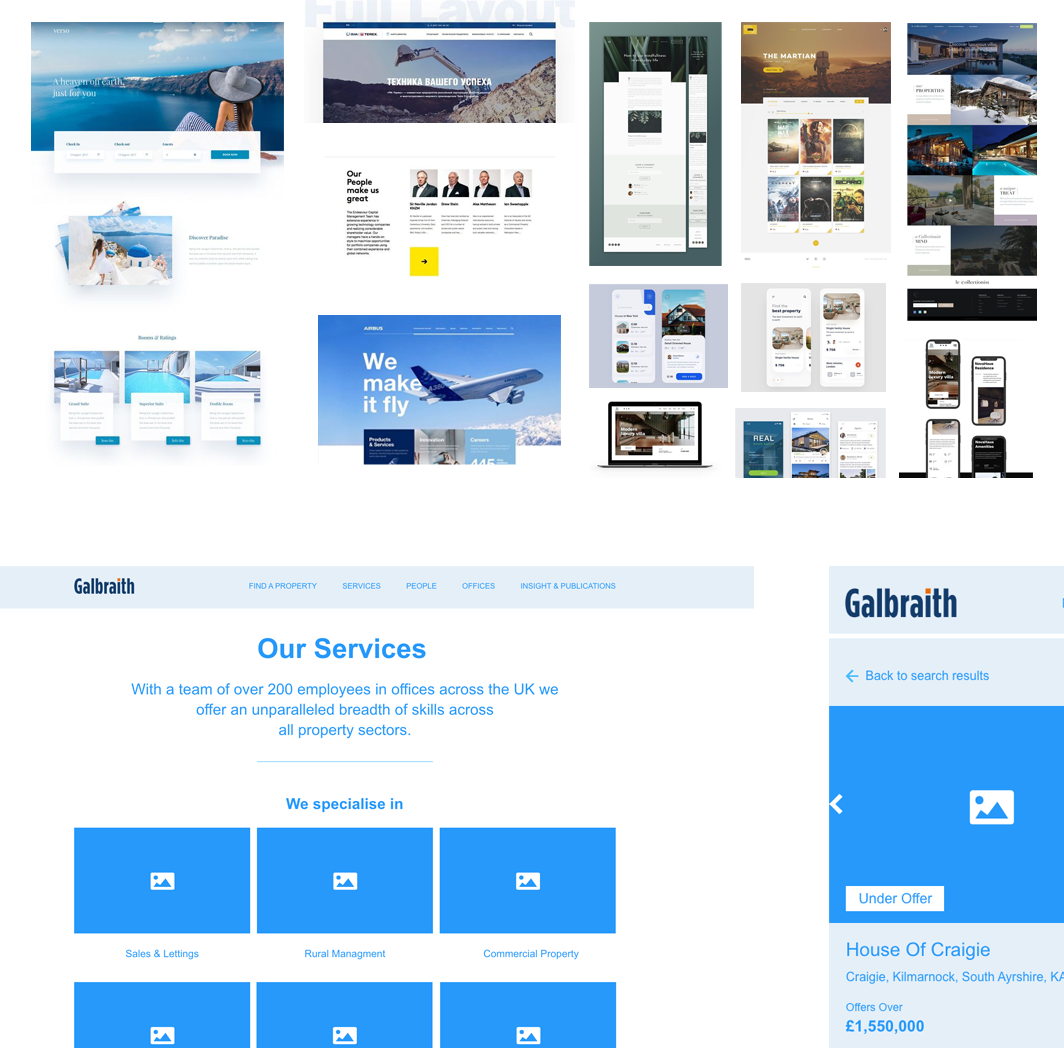 We also worked with the Galbraith service teams to redefine their service structure and review their customer needs so we could map out the key customer journeys to inform and present their services in a more meaningful way. 
From a technical perspective, we engaged with Galbraith's in-house developer and IT team to understand their technical skills and technology preferences, and presented a technical solution which met their requirements for future maintainability.
As we moved into the Approach phase of the project, we worked with a smaller group of stakeholders to define the requirements for core website pages and property search functionality. To enable all these conversations, we used Miro as a collaborative space, and to-date the board has over 4.5k objects on it and growing!  
In the website's design, we wanted to ensure a richer experience with intuitive navigation and greater use of brand photography.
At the Design stage, we started to visually express how page journeys were presented through wireframes, prototypes and designs using Adobe XD.
A series of mood boards of key components and page layouts were first created to establish the direction, before developing key page concepts and rolling them out across desktop and mobile.
Galbraith's new website was built with a greatly improved property listing, a visual design that positioned Galbraith amongst top market competitors. Its slick, quick and highly efficient property search tool makes it easy for prospective buyers to navigate Galbraith's broad range of properties.
A key objective for the website was to improve functionality for each of Galbraith's business streams, and new website content, design and customer journeys are designed to expose all of these to the users from the website homepage.
The depth of Galbraith's experience is further highlighted by weaving Galbraith's experts through the website – every team member has their own page, and their expertise is showcased the site at both a property and a service level.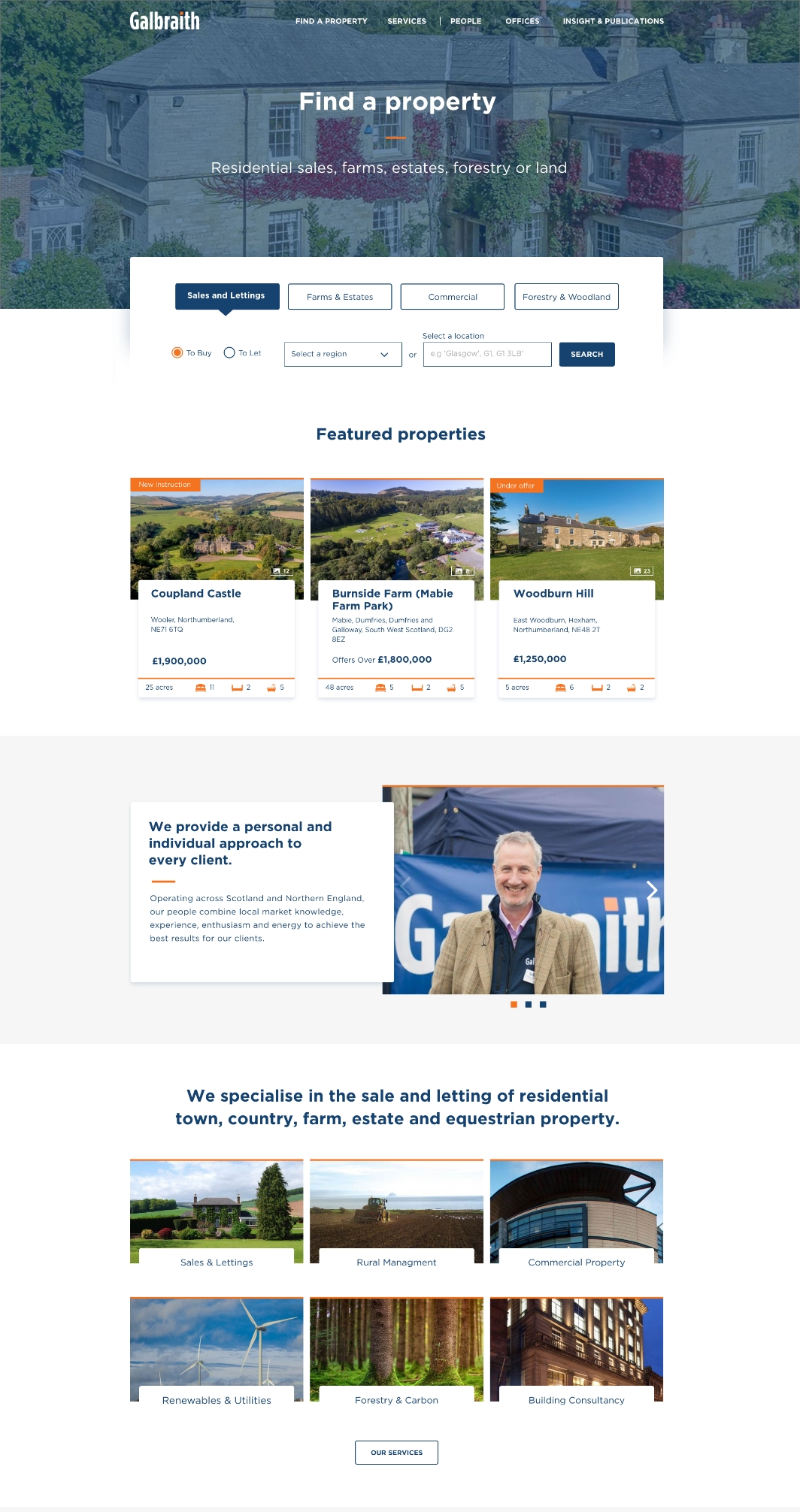 With a need for more engaging content and a CMS with a wide variety of flexible components and a friendly editor experience, we built the website on Umbraco. The component-based approach we implemented delivers a mobile-first experience that performs well against the Core Web Vitals scoring system, even with an increase in the number of high-resolution property images being loaded on most pages.
The CMS gives Galbraith the means to extend the ways they present their property data to their customers. We delivered a webhook-enabled API which connects to the system which stores all of Galbraith's property data, to ensure that this information is instantly and reliably reflected on the website.
And finally, the website was built with custom analytics that tracks every customer interaction on the website, from search terms and filter fields entered, to lead forms and social media follows.
It is a platform for the future, with an easy-to-use CMS, designed for mobile and tablet devices and custom analytics tracking to assess website effectiveness and consistently improve content and marketing efforts.
As property search is both highly seasonal and very impacted by the Covid-19 pandemic, our initial reporting period compares the first six months of the new site, from June 2022 to November 2022 to the same months in 2019.
From the first six months of the new website, engagement with the new site has been extremely positive, with both pageviews and page engagement improving.
A 15% increase in unique pageviews

A 52% increase in average time on page

A reduction in users existing pages by 75%
And while we've been able to keep users exploring the site for longer, we've also helped them explore the huge breadth of properties offered by Galbraith. There's been a significant increase in people visiting some of Galbraith's lesser-known services, including forestry (152%) and estates (130%).